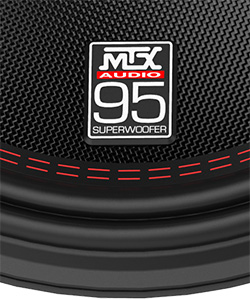 Introducing the baddest subwoofer available for years to come.
THE NEW 95
For over 10 years, the MTX 95 name has been synonymous with unmatched SPL output and legendary performance. The new 95 builds on that legacy with new technologies that take this Subwoofer to levels never before acheived. This subwoofer is designed to produce bass, plain and simple.
The Next Level
It is ideal for competitors looking to take their systems to the next level, for those wanting the best sounding subwoofer available for their primo ride, and for everyday enthusiasts that want a "live concert" happening in their cars instead of that boring stock audio experience.
This 15" model features a dual 2Ω voice coil configuration and is capable of handling 1500W RMS power.