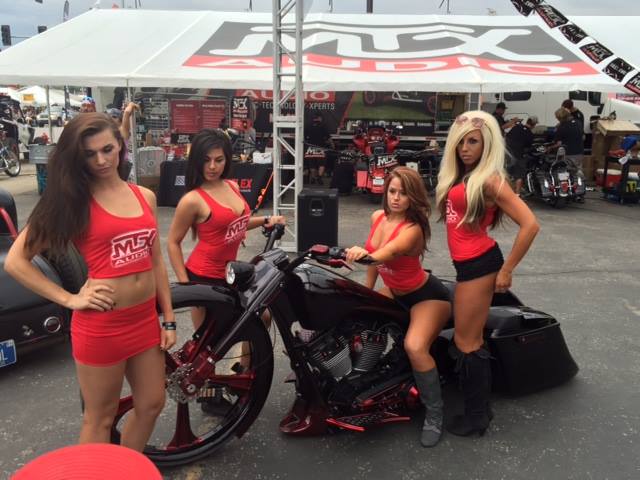 The Sturgis Motorcycle Rally is the largest annual motorcycle event in the world and it attracts motorcycle enthusiasts from around the globe. This year celebrated the event's 75th anniversary and the team from MTX was on hand highlighting our motorcycle audio upgrades to all of the attendees. Our booth, affectionately known as the Thunder Pavilion, was located in the heart of the action on Lazelle and Harley Davidson Way (2nd St) and encompassed over 10000 square feet of awesome.
The all new MTX Toter Home along with Eddie Trotta's Thunder Cycle Designs and John Shope's Dirty Bird Concepts packed this area with high energy and beautiful motorcycles. The MTX Toter Home recently revamped by our own display and design team, Craig Marsh, Heidi Yoder, Phil Austin, Ken Thomas, Pete Graber, Dennis Benson, and Jason Planck, worked for two straight months to turn a plain truck into a show stopping monster complete with custom fabricated awning and tons of storage that allowed it to function as a true base of operations allowing us to house inventory and have a covered sales and installation area for our customers to enjoy. Our booth was the loudest, most visible vendor booth on Lazelle and attendees packed the Pavilion from the time we opened until we shut down for the night.
We met tons of riders that all had the same complaint, their factory audio systems sound terrible, even if they had bought the factory "premium system". Luckily, we came prepared with a ton of product including several new products for the event like new MUD series amplifiers, Harley Davidson wiring harnesses, and the MUDHSB-B handle bar sound system that we showed off, sold, and installed for 10 straight days. We started early and ended late working 12-14 hours everyday to ensure that we maximized our time at the show. Our install team of Craig Marsh, Jimmy Kitagawa, Matt Aijala, Travis Pranschke, and Jason Planck performed installs on over 50 motorcycles including Harley's, Indian's, Victory's, and even a Corbin Merlin (a one of eight in existence, 3-wheeled motocar) and they tackled two Polaris RZR1000s as well. MC Paul Schleipfer was on the mic the entire show, drawing people into the booth with his bravado and big personality that only Paul can deliver. When things would slow down he was able to draw crowds in with jokes, stories, and product highlights and information, which worked out perfectly.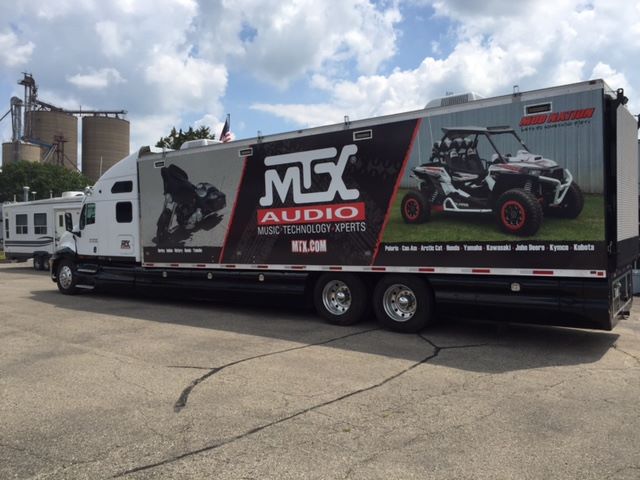 Our sales team including Mike Roberts, Mark Schleipfer, Kathy Buck, and Linda Pranschke were on the scene all week to ensure that our customers got product demos, MTX giveaways, and information regarding all the things that MTX could do to help them get Serious About Sound. Big props to Linda P. for showing up everyday in the booth and working it like an employee with enthusiasm and the desire to close the sale. She sold a ton of Sound Shots and other merchandise, by the end of the week she was a seasoned pro. She also put up with eight men sharing a house with her, which probably qualifies her for sainthood. Finally, of course Loyd Ivey was making his presence known throughout our booth and all over Sturgis talking to thousands of customers and getting them excited about MTX. Next time you see him ask him about his "My Boss" patch that he got as a souvenir in Sturgis.
Overall the show was an amazing experience. The MUDHSB-B was a huge hit and our engineering team deserves a ton of credit for getting a patent pending product to market in record time so we could sell them to the masses. They also were able to get our HDWH2 and HDWH4 wiring harnesses for the show so we were able to directly wire into Harley systems without having to cut into any factory wiring reducing installation time. All in all it was an incredibly long two weeks, with a lot of driving, a lot of talking, and a lot of hard work, but MTX is the leader in motorcycle audio. We have already had dozens of new dealer inquiries regarding these new products and look forward to continuing the momentum for the rest of the year and into 2016. Big thank you to all the attendees for working so hard and enduring so much to make the event the success it was.
Click here to watch a 1/2 day video on the slowest day in Sturgis!!
See the pictures and read more...