MTX Archive products are generally no longer available from the factory.
These audio product series are generally no longer in production, or available for purchase, at MTX Audio. (There may still be models available in our "Limited Supplies" section)
MTX engineers design our audio components to last a long time with proper use and there are tens of thousands of MTX speakers, subwoofers and amplifiers still rocking around the world. So we try to provide information on these classics in support of our many MTX fans.
Contact our Technical Support team if you need further assistance.
MTX Product Archive
---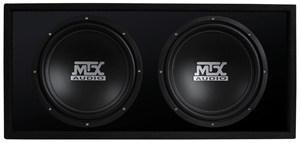 The RoadThunder 2x12
We Did The Work For You
Everybody that knows anything about bass and subwoofers knows that you have to have the right subwoofers in the right enclosure to get the best possible performance. Choosing subwoofers and then finding or building an enclosure for them can be a challenge that most people don't want to undertake.
That is why the engineers at MTX created the RoadThunder RTL12X2D loaded enclosure. They picked the perfect subs and designed the perfect enclosure to make them go boom, just like they are designed to do. You don't even have to think, we did all the thinking for you.