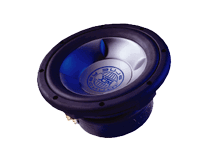 Blue Thunder Extreme Subwoofers
The Blue Thunder Extreme subwoofers are available in 10", 12", and 15" models (watch out for the 15", we haven't sent it to obedience school and it just might kill you!)
Available in 4 or 8 ohm impedance.
Provide enormous power handling capabilities - 500 watts RMS and 1,500 watts total on that dangerous 15" model.
Designed to play in virtually any enclosure - vented, sealed, or bandpass.
The Chassis
It's a monster. A powder-coated, black die-cast aluminum frame. It can handle what you send it and beg for more.
The Cone/Dustcap
To the naive, this speaker looks very elegant. The cool propeller shape cone integrated with the inverted dustcap looks like it's gone to finishing school. But like the smoothest-talking serial killers, these Blue Thunder Extreme Subwoofers are in fact, very dangerous.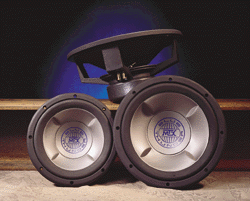 The Gasket and Surround
Are one piece, with a fillet-edge, pressure-formed out of EPDM. this is a reliability boost, since there's no more adhesive, and the EPDM resists UV rays.
The Voice Coil
There's more than 475 feet of wire in the voice coil of the 15". It's eight layers of super-conducting copper. This is all about thermal power handling, lower resonant frequencies, and improved bass response (the more copper in the voice coil, the better thermal power handling, for better bass).
The Magnet
To put is simply, they're big - very, very big. 102 ounces big. We bolt them together to make sure you can trust them when you crank it up past LOUD.
The Addiction
Yes, we're sorry to say, these Blue Thunder subwoofers are addicted. Addicted to power. Better plan on satisfying their craving. They'll take the power of a PRO300X2 or PRO500XD all day long.
Available in 4 or 12 ohm, Blue Thunder subwoofers perform in sealed, vented, or bandpass enclosures