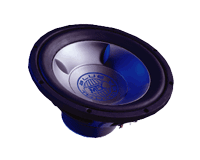 Blue Thunder Legend Subwoofer
These subwoofers feature the
MTX Asymmetrical Linear Drive Technology
A combination of a flat, progressive spider with an extended pole piece. This technology contributes to the high power handling, yet low distortion characteristics of the Blue Thunder Subwoofers.
Available in 8", 10", and 12" sizes with 4, 8, and 12 ohm (no 12 ohm in the 8"). This means that you can choose a size and impedance combination that makes the most efficient use of your amplifier power.
The Chassis
The frame of the Blue Thunder Legend Subwoofer is a "folded-window" design. Besides looking very elegant, it is a more stable construction.
The Cone/Dustcap
The inverted dustcap is integrated seamlessly with the tinted gray cone, for a sleek, high-tech appearance.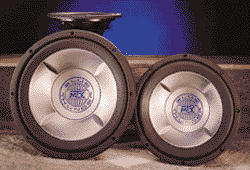 The Gasket and Surround
Are one piece, with a fillet-edge, pressure-formed out of EPDM. this is a reliability boost, since there's no more adhesive, and the EPDM resists UV rays.
The Voice Coil
It's a four-layer, long winding length (the more copper in the voice coil, the better thermal power handling, for better bass).
The Magnet
Is oversized, which contributes to driver control...(for superior power handling)