Powersports Audio
Motorsports audio products that are weather resistant and designed for use on ATV's, UTV's, SXS, motorcycles, boats, golf carts, and other off-road recreational vehicles (ORV's), have become hugely popular. Everybody loves music and the only thing better than tearing up the track, sand, water, pavement, or dirt is doing it while rockin' some great audio (and the golf course could use some good audio too).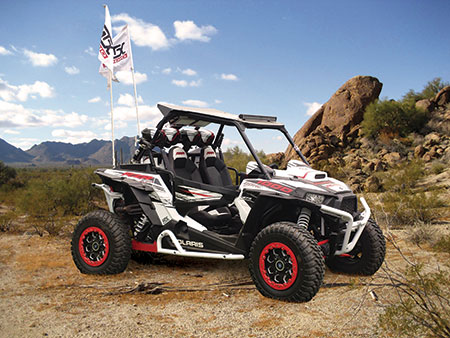 MTX Custom Polaris RZR 1000 with Big Time MTX UTV Audio System
Unlike car audio, products designed for motorsports audio need to be built to handle conditions that are more severe than what you typically find inside a car or truck. Protection from damaging UV rays, moisture, dirt, sand, rain, snow, humidity, and anything else Mother Nature can throw at them is a must. Outdoor electronics need to also handle the extra vibrations, unique installation challenges, and abuse that comes with the territory are necessary for successful motorsports vehicle audio system applications.
Specific goals must be met when developing products for these types of vehicles to meet these challenges. Extra steps must be taken to include UV inhibitors to prevent fading in the sun. Designs must accommodate additional components used to seal the products from sand, dirt, and moisture. Materials must be tested and proven to withstand harsh conditions.
Whether you're installing a pair of wakeboard tower speakers on the roll cage of your Jeep Wrangler beach cruiser, you're upgrading the speakers in your Polaris RZR or other side by side, or you're building a custom fairing with speakers for your Harley-Davidson motorcycle, you need to look for products that offer both high performance audio and high performance durability and weather resistance.
Some features to look for in motorsports audio products include conformal coated circuit boards, covers that protect internal components from damage that can occur from moisture, dirt, and other environmental hazards, stainless steel hardware to prevent rust, and certifications or testing parameters that prove durability in the conditions these products will live through. Also, controlling your audio must be easy to do when wearing gloves or a helmet, using one hand to hold the handlebars or steering wheel, and while keeping your eyes on the trail.
ASTM B117 is a testing parameter established to test durability in environments that include exposure to salt spray. This type of testing is typically performed on marine products. Thunder Marine wakeboard tower speakers are tested for 500 hours to ASTM B117, D4329 standard. They also include ASA impact resistant grilles with a UV inhibitor to prevent fading from the sun. The NEW WET8CWB model has passed ASTM testing for both moisture corrosion and UV resistance. It is a 2-way speaker with an 8" polypropylene woofer and 1" high frequency compression driver capable of handling up to 200 watts RMS and 400 watts peak. They clamp to just about any wakeboard tower with diameters between 1.75" and 3" and also have a built-in, down-firing white LED dome light and red accent LED's on the rear of the durable and UV resistant ASA plastic enclosure.
MTX Audio's MUD100.2 amplifier features a conformal-coated circuit board which means it is covered with a coating that prevents moisture from damaging the electrical components. All the necessary wires for installation are attached to the circuit board internally and exit the chassis of the amplifier through a sealed port. The parts of the amplifier chassis are sealed with internal gaskets and there are plugs included with the amplifier that can be removed to adjust the crossover and gain settings and re-installed to prevent moisture and debris from getting inside the amp. All connections to the amplifier are internal making it perfect for motorsports applications.
Products like our NEW universal Bluetooth Receiver/Remote Control (MUDBTRC) make changing tracks and adjusting volume easy with large, easy to push buttons. The MUDBTRC can be installed anywhere which means it's guaranteed to be easily accessible. And once again, it's constructed using weather resistant materials that protect the internal electronics from dirt and moisture.
Some of our other universal ORV (off-road vehicle) products have a built in controller like our Bluetooth Overhead Audio Systems (BOAS). The BOAS can be easily installed with adjustable mounting brackets that clamp to a variety of roll cage widths and diameters. Two models are available from MTX Audio. The MUDSYS41 and the MUDSYS46 both include a source unit featuring Bluetooth, AUX input, USB input, AM/FM radio, and an integrated 280-watt peak power amplifier which powers four (4) 6.5" full range, all-weather speakers. They even have a built-in high intensity LED dome light and high strength storage nets.
Maybe you'd rather have a cage mount sound bar clamped to your Jeep or side by side roll cage instead of wakeboard tower speakers. Our NEW MUD6SPBT could be just what you've been looking for. Four (4) all-weather 3" full range speakers and two (2) all-weather 1" high frequency tweeters are connected to an internal high efficiency amplifier that is protected from the elements inside the enclosure. Large, glove-friendly front panel buttons allow for easy adjustment while on the move. The brackets will mount to roll cages with diameters from 1.25" to 2.25".
All of these universal audio products solve a major installation challenge in side by sides and other ORV's. The clamping systems are versatile and easy to use making installation a breeze in the cockpit area where other options would require a more custom solution. With a little ingenuity, these could be bolted to ORV's without roll cages as well.
WET series marine amplifiers include some of the same features of the MUD100.2 but there are some connections exposed. These connections use stainless steel hardware to prevent rust and plastic covers and rubber gaskets to protect them from the elements.
MTX Audio's WET series marine speakers and subwoofers also include specific features designed for weather resistance. Gold plated terminals, silicone insulated tinsel leads, polypropylene cones, the same ASA impact resistant plastic as used in the wakeboard tower speakers, and a sealed PVC basket keeps internal components dry.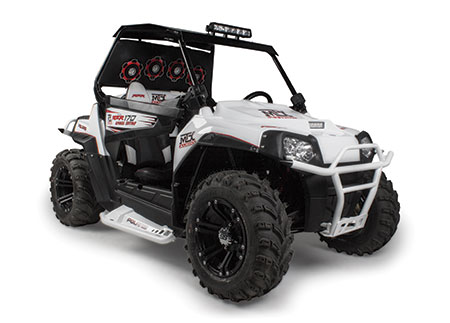 MTX Custom Polaris RZR 170 with MTX Audio throughout
But while marine speakers don't really look like they belong on a bad ass Harley-Davidson motorcycle or a highly modified side by side you say? MTX still has you covered. The TDX series of speakers is not considered marine grade, but it still includes some features that make it suitable for applications that are outdoor but not as close to the water as a boat. Plus, the concave cone design and pivoting tweeter make it ideal for off-axis response in installations where mounting locations might be limited. This means you can install them wherever you have room and pivot the tweeters toward the listener's ears for best possible sound quality.
Even some of the rotationally molded ThunderForm subwoofer systems and universal subwoofer enclosures can be used in motorsports audio applications. Because they are rotationally molded plastic, they are a one-piece design which reduces the amount of places dirt, sand, and moisture can get inside. A properly sealed terminal, subwoofer with a polypropylene cone, and gaskets to seal the subwoofer to the enclosure, and now you have a subwoofer box that is ready to go toe-to-toe with anything Mother Nature can offer.
So before you go out and buy some car audio product painted white for your boat or purchase some low grade car audio speaker that has been repackaged to look like it's for motorcycles, be sure to look for something that sounds good AND is built specifically for the conditions you plan to ride in. Even if it costs you more on the front side, it'll save you money in the long run to buy products that are capable of handling the punishment they're going to get while you knife through the switchbacks, drive over rocks, bounce through wakes, or hammer through streams.