Thunder T9500 2003 Sub Archive
2003 Generation Thunder 9500 Subwoofers
Models T9510, T9512, T9515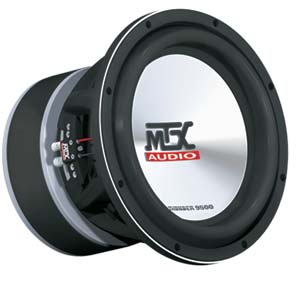 T9500 2003 Generation Tech Data Reports

---
Thunder 9500 2003 Generation Subwoofer Specifications
Thunder 9515 Subwoofer Specifications

Model
T9515-44
T9515-04
Description
15" Subwoofer
15" Subwoofer
Impedance
Dual 4 Ω
4 Ω
RMS Power (Watts)
1,000
1,000
Rec. RMS Amplifier
Power (Watts)
500 - 1,000
500 - 1,000
Sensitivity
90.38dB
90.38dB
Voice Coil
4"
4"
Magnet Weight (oz.)
260
260
Mounting Depth
10-3/4"
10-3/4"
Cut Out Diameter
13-7/8"
13-7/8"
Sealed Enclosure Net Volume
1.5ft3-2.0ft3
1.5ft3-2.0ft3
Vented Enclosure Net Volume
2.25ft3
2.25ft3
Speaker Displacement
.24ft3
.24ft3
Volume Displacement (SD x XMAX) (in3)
135.77
135.76
Tuning Frequency
34Hz
34Hz
---
Thunder 9512 Subwoofer Specifications

Model
T9512-44
T9512-04
Description
12" Subwoofer
12" Subwoofer
Impedance
Dual 4 Ω
4 Ω
RMS Power (Watts)
1,000
1,000
Rec. RMS Amplifier
Power (Watts)
500 - 1,000
500 - 1,000
Sensitivity
91.00dB
87.40dB
Voice Coil
4"
4"
Magnet Weight (oz.)
260
260
Mounting Depth
9-3/4"
9-3/4"
Cut Out Diameter
11"
11"
Sealed Enclosure Net Volume
1.0ft3-1.5ft3
1.0ft3-1.5ft3
Vented Enclosure Net Volume
1.75ft3
1.75ft3
Speaker Displacement
.19ft3
.19ft3
Volume Displacement (SD x XMAX) (in3)
83.89
83.89
Tuning Frequency
35Hz
35Hz
---
Thunder 9510 Subwoofer Specifications

Model
T9510-44
T9510-04
Description
10" Subwoofer
10" Subwoofer
Impedance
Dual 4 Ω
4 Ω
RMS Power (Watts)
750
750
Rec. RMS Amplifier
Power (Watts)
375 - 750
375 - 750
Sensitivity
87.48dB
85.90dB
Voice Coil
3.5"
3.5"
Magnet Weight (oz.)
195
195
Mounting Depth
9-5/16"
9-5/16"
Cut Out Diameter
9-3/16"
9-3/16"
Sealed Enclosure Net Volume
.63ft3-1.25ft3
.63ft3-1.25ft3
Vented Enclosure Net Volume
1.25ft3
1.25ft3
Speaker Displacement
.14ft3
.14ft3
Volume Displacement (SD x XMAX) (in3)
55.73
55.73
Tuning Frequency
37Hz
37Hz
---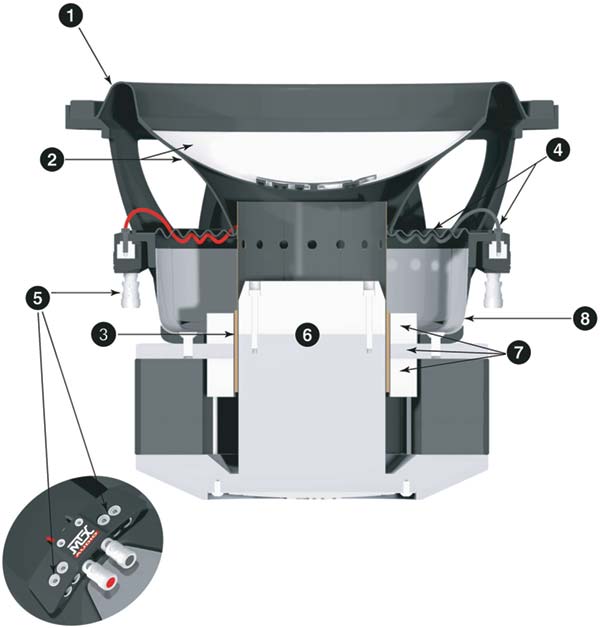 SURROUND GEOMETRY: Compression molded NBR surround uses FEA optimized roll geometry to maximize excursion without sacrificing cone surface area. Works with conventional driver mounting holes and techniques.
CONE/DUSTCAP: Injection molded, carbon filled expanded polypropylene with aluminum deposition used to dramatically increase stiffness/weight ratio. Creates overall stiffer and lighter diaphragm assembly.
VOICE COIL: 4" diameter black anodized aluminum former with 220° aluminum flat wound ribbon wire. Designed for high power handling and large linear excursion without unnecessary addition of mass.
SPIDER: Nomex/polycotton hybrid material with integral tinsel lead wire. Allows for high excursion without spider or tinsel lead fatigue. FEA optimized progressive roll geometry provides huge linear excursion capability.
TERMINAL: Die-cast zinc co-molded with ABS plastic housing. Nickel plated 8 gauge compression inputs with two additional sets of 8 gauge inputs using set- screw termination. Installer advantage‹create clean, proper wiring of DVC woofers and/or multiple woofer installs.
T-YOKE ASSEMBLY: Hot forged, CNC machined 1008 low carbon steel yoke with CNC machined 6063 aluminum shorting ring. Reduced eddy currents and flux modulation with additional benefit of improved heat conduction from voice coil to T-Yoke assembly. Woofer is capable of extremely high excursion while maintaining low distortion.
FRONT PLATE ASSEMBLY: Hot forged, CNC machined 1008 low carbon steel front plate with extruded 6063 aluminum heat sinks. Maximized heat conduction from voice coil over entire wind width.
SPIDER PLATEAU VENTING: Air flow is directed past the voice coil and heat sink then forced out through vents in the basket. Maximizes heat convection from voice coil and heat sinks.